| | |
| --- | --- |
| Disclaimer | This information was obtained during the TERA Focus Group 2 testing and is subject to change. See end of article for source references. |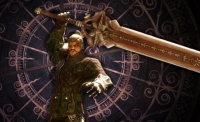 Do you dream of wading into the fight like a two-edged whirlwind, swinging a powerful sword in deadly arcs, and evading your foes as skillfully as you fight them? If so, you may be a slayer at heart.
The slayer does the job with aggressive swordplay, graceful evasive moves, and overwhelming force. Wide-sweeping circular attacks that mow down enemies on all sides, an agile dodge that puts the slayer behind the foe, and a leaping backflip kick are only a few signature moves that define this fast-moving, damage-dealing class.
High mobility combined with high damage capabilities make the slayer a versatile and valuable party member, and a gifted solo act, too. A wide range of skill options and a certain flair with a massive weapon create possibilities for exciting and creative gameplay.
If you love wading into the fray and dealing destruction all around you with a mighty two-edged sword, relentless in combat and skilled in evasion, the slayer may be just your style.
Arms and Armor
The slayer's best friend is a two-handed greatsword loaded with damage-dealing power. Once unleashed in a roundhouse attack, it continues felling foes on all sides, and even those sneaking up from behind.
Because slayers wear light armor, they're quick on their feet, and are often able to avoid damage that would fell another player.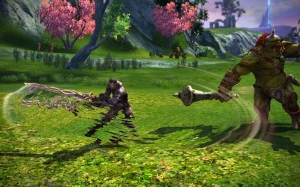 Slayers begin their careers with a punishing wide-reaching combo attack that builds MP and gains power when repeated, and a forward-rolling dodge that's custom made for extra-damage attacks from the rear. More powerful skills will follow every two levels, but these beginning skills will continue to serve you as you gain power and proficiency.
Slayers swing, thrust, leap, roll, flip, kick, and whirl. They can slice and dodge their way through groups or individual foes, and their circular attacks are particularly effective at devastating encircling throngs bent on their destruction. Slayers' power and versatility make them an asset on any TERA adventure.
Despite their light armor, slayers are light on their feet and capable of fighting in the thick of things along with warriors. They are faster and more mobile than berserkers, and their whirling attack style allows them to excel at taking out surrounding mobs.
Like warriors, slayers can dodge out of harm's way and come up behind foes. Because they don't draw aggro as easily as some other classes, slayers excel at attacking enemies from the rear while tanks keep them busy from the other sides.
Slayer Skills

| Skill Name | Skill Icon | Level Skill Is Learned | Skill Description |
| --- | --- | --- | --- |
| Combo Attack | | 1 | Strikes a nearby target and restores a certain amount of MP. Pressing attack button repeatedly to make combo attacks with each strike getting stronger. |
| Rushing Dodge | | 1 | Instantly dodges enemy's attack by jumping over toward your front. |
| Whirlwind | | 2 | Swirls a sword, hitting targets within 2m. |
| Trip Attack | | 6 | A power charged skill. Thrashes a target in front with a sword, causing the target knocked down with a high chance. |
| Soaring Attack | | 12 | Attacks the target while standing up. You can only use this skill when you are knocked down. |
| Smash | | 16 | Jumps to the target and smashes down with a weapon. Damage to knocked down target increases by 5 times after learning Smash Intensified. |
| Dash | | 26 | Increases movement speed by 100% for 10s. |
| Decisive Slash | | 28 | Strikes the target with a strong blow. Casting time for this skill shortens after using whirlwind, trip attack, smash and the last hit of combo attacks. |
| Vicious Stance | | 36 | Agilely approaches to target's back, watches for a blind spot. You can use this skill on the target within 20m. |
| Will Concentration | | -- | Shouts and stabilizes the energy within the body. MP does not decrease spontaneously for 20s. |

For a more in depth look at the skill please refer to Slayer Skills
Terablah Slayer skills post
TeraFans Slayer skill guide
TERA Official Website
| | |
| --- | --- |
| | This page needs more information! If you'd like to contribute, please edit this page (free ZAM account required)! |
This page last modified 2011-04-15 09:23:59.
There is 1 article in this category.
Sub-Categories